Description
Introducing The Venicci Gusto Black. The Venicci Gusto features a beautiful Eco Leather Brown Handle. The Pram is beautifully styled and certainly will turn heads. This pram is made to last you. The Travel system will take you from birth to toddler with ease. The pram is just a simple click system and its so easy to use and is practical and stylish at the same time.
Included in your Venicci Gusto Black package is,
Venicci Car seat
Changing bag
Venicci Pushchair footmuff,
Baby carrycot
Venicci Gusto Black pushchair unit
Travel system Chassis
Rain cover
Cup holder
Insect Net
Delivery is around 1-3 working days and is FREE
Optional extras are
Isofix base £120
Matching colour parasol £20
Venicci Gusto Black Carry cot mode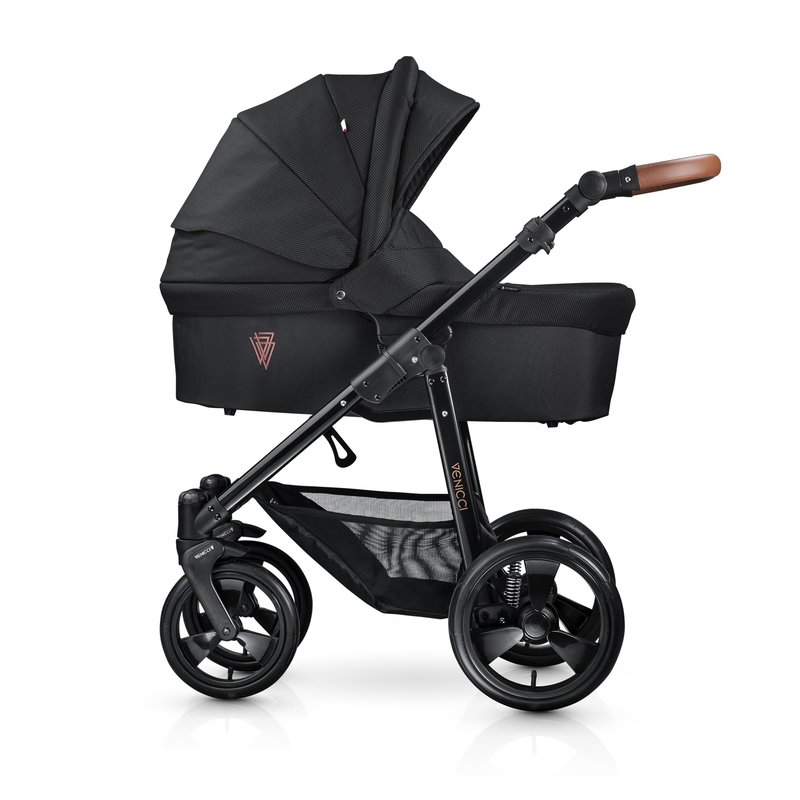 The large spacious carrycot is suitable from birth to 6 months plus. The mattress is included the the carry cot and the lining is a luxury soft cotton. The Gusto fabric is UPF 50+ fabric so it will protect your baby from the elements as it is weather resistant. The carrycot also allows you to sit baby up in three positions therefore we feel the carrycot will last baby longer than a traditional lye flat carry cot. For summer there is also a large vent to vent through the carrycot and keep baby cool.
The Venicci gusto Black features brown eco leather handle. The carrycot uses an easy click system where you just click it on and off and lift using the carrycot handle.
VENICCI GUSTO BLACK PUSHCHAIR MODE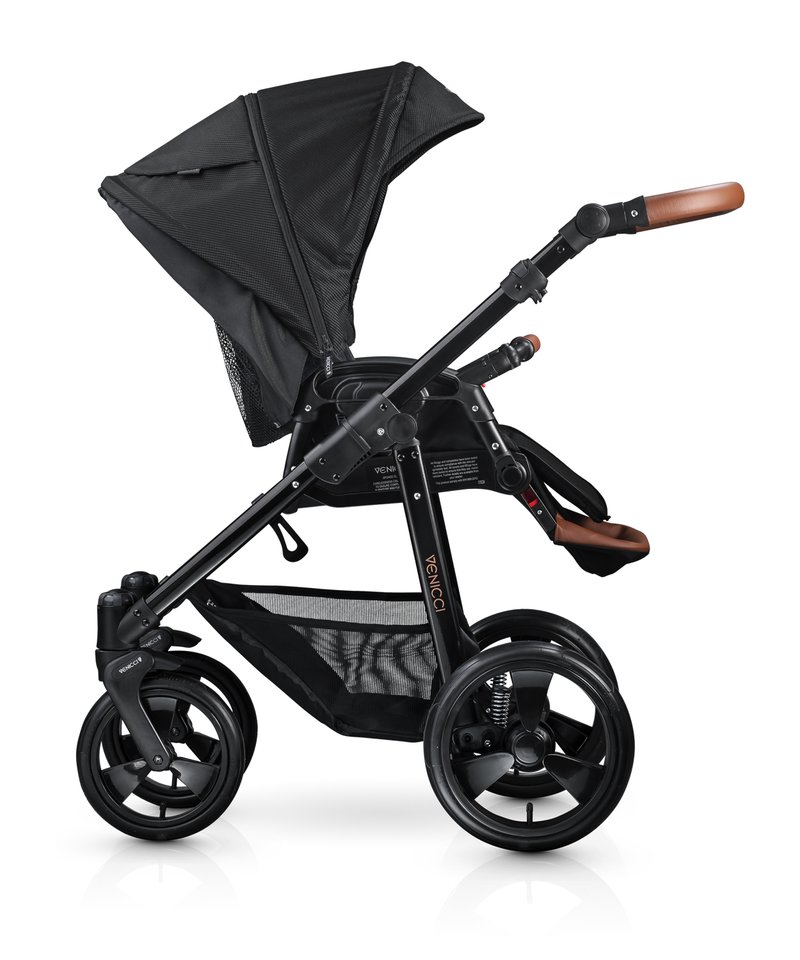 The Venicci pushchair is a multi functional seat which faces both ways. You can face it to you or baby can see the world, by using the easy click system.
The pushchair comes complete with brown bumper bar, hood and footmuff.
The pushchair is suitable from 6-36 months.
Weight: 4,4kg approx
You can be safe in the knowledge your baby is secure with the 5 point safety harness which is height adjustable.
The pushchair has a liner to keep your pushchair clean and it is nice and padded for babys comfort.
The back rest is a multi recline back rest and has three positions. There is also a summer vent you can open and also the hood on the pushchair extends to shade baby from the sun or if they have gone to sleep.
VENICCI GUSTO BLACK CAR SEAT MODE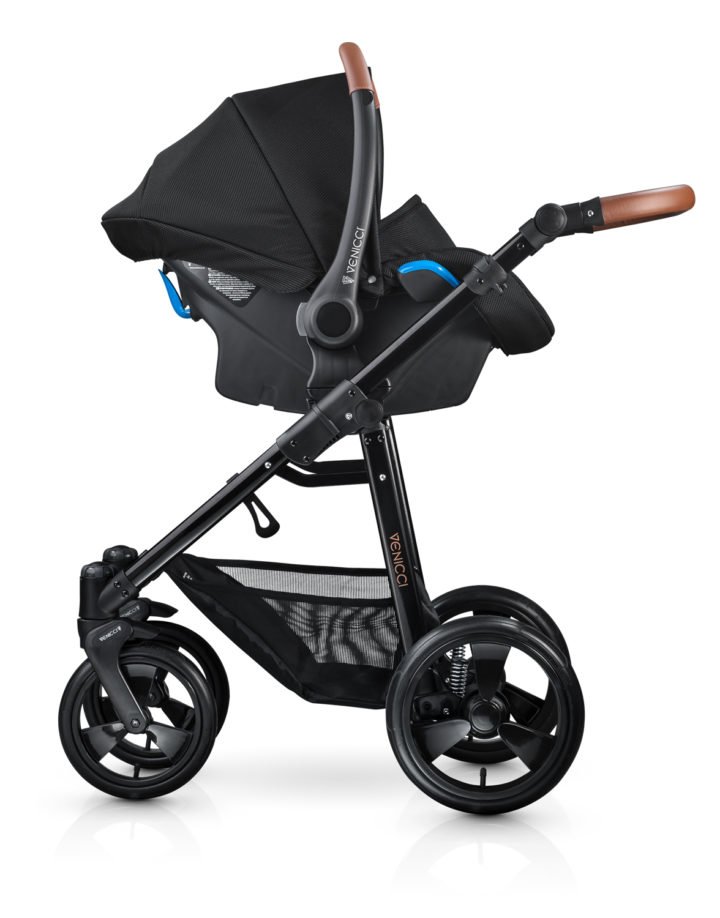 From birth to 10kg can be fit on its own, with the Seatbelts, or with the ISOFIX Base. Weighing only 3.kgs the Venicci car seat is our lightest infant carrier and travel system.
The Venicci Car seat is lightweight and easy to carry and therefore makes it easy to carry baby. The comfortable car seat adapts to grow with your baby. There is removable padding to support your newborn baby and remove once baby outgrows it.
The Venicci Car seat is travel system compatible and the adaptors are included in your package to enable you to easily clip your Venicci Car Seat on to your Venicci Chassis. This will enable you to take short journeys with just your frame and Car seat. Which is so easy for short trips and ensures you can get around quickly with baby and minimal fuss.
The Venicci Car seat is tested to safety standards E20 44r-04 2064. So you can be sure your baby is safe.
Venicci Isofix Base Compatible
The Venicci Car seat is only compatible with the Venicci Isofix Base, please select one if required. The Venicci Isofix Base offers superior safety and ensures your car seat can not be easily fitted incorrectly as it has Red Green indicators to show the Base and Car seat are correctly Fitted. So you can be safe in the knowledge your baby has the best safety.
Delivery
Delivery is around 1-3 working Days.
When your Pram is due to be delivered you will get regular updates from our courier. Further more If the delivery time does not suit you, you can easily change this by replying to the link in the message.
Payment Plans
You place your 10% non refundable deposit on placing your order. Your Payments are then split in to equal amounts over either 3 or 6 months.
For example a 6 month payment plan with a purchase price of £749 would be.
Deposit £74.90
6 payments of £112.35 which will start the month after you put your deposit down.
Customers At anytime can pay the payment plan off early by calling our store or visiting the my account section of the Website.
Baby Boutique Are Stockists of the Full Venicci Range
See the full Venicci Range Of Prams and Travel Systems Here